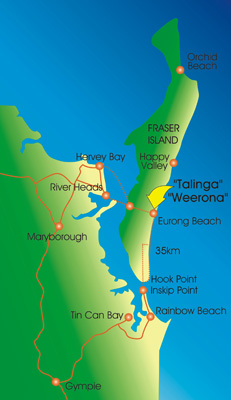 The island can be accessed from the south by driving to Rainbow Beach and then Inskip Point where several vehicular ferry services, transport vehicles and passengers to Hook Point on the southern end of Fraser Island.
For more information www.mantarayfraserislandbarge.com.au
The trip to Eurong is approx 35 km and can be made at low tide along the beach around Hook Point or at high tide along the inland road.
Barge access is also available from River Heads at Hervey Bay.
Visitors can access Fraser Island by
4 wheel drive vehicle
Passenger launch
4 wheel drive Taxi
Commercial tour
Private boat
Light aircraft landing at Eurong