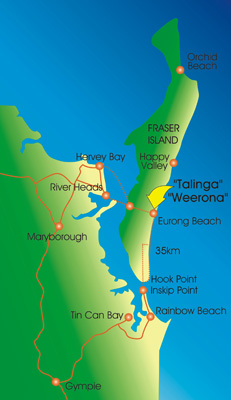 FIHL Pty Ltd was incorporated in 1983 to enable multiple individuals with a passion for Fraser Island to purchase part of this paradise and share the experience with other likeminded individuals.
If you become a shareholder, you are actually buying a Block of 3000 shares. There exists only 50 Blocks of shares in FIHL which owns two properties, Talinga and Weerona, at Eurong.
Purchasing shares is fairly straight forward and done in a few steps.
The secretary sends an email to our shareholders with your contact details (with your permission first) and notify everyone that we have an interested buyer. It will then be up to the shareholders who are interested in selling to contact you with their expected sell price etc. Hopefully, you will hear from a couple of shareholders and you will be able to negotiate a reasonable buy price that is mutually beneficial.
The sale is approved by the Committee. At this point it would be beneficial for the approval process for the Committee to understand your motivation for buying into FIHL.
Once approved by the Committee, the paperwork is sorted out between you, the seller and FIHL.
ASIC is notified of the sale and change of shareholder information is forwarded to them.
You go on holidays and enjoy being a shareholder of Talinga and Weerona.
It is an exciting opportunity to be a shareholder of FIHL as you are not buying into a Time Share Group. Buying shares in FIHL means you own shares in freehold properties which are now rare on Fraser Island. It also means you receive one free week at either house per year, you get the opportunity to be involved in Working Bees (therefore meeting other people who share your passion for Fraser) and if being involved is what you are looking for, you can also join the Committee.
We are also trying to keep the ongoing expenses to our shareholders to a minimum and at the moment our Annual Maintenance Levy is between $400 – $500 (which gives you a free week). If you do decide to participate in our set dated Working Bees, you will receive $300 for your 12hrs of labour – It's our way of thanking those who help keep our houses looking great.
Please contact the FIHL secretary at fraserislandholidaylodges@gmail.com to lodge your interest. You will then be put in direct touch with the sellers to negotiate the sale price.
We look forward to hearing from you in due course.